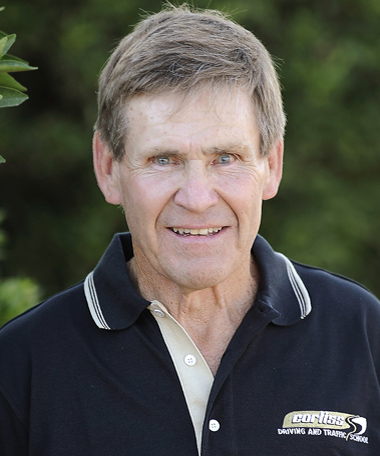 Our Driving School was started in 1994 when the California School system dropped free Drivers Training from the public high schools. As a teacher and coach in Visalia Unified since 1974, Bill Corliss has been dedicated for more than 30 years to teaching local students to drive.

Mr. Corliss taught Drivers Ed and Drivers Training at Golden West High School, coordinated Drivers Training for VUSD and was actively involved in CASE, the statewide driving association. He also holds a specialist college degree and credential in teaching driving and has taught driving classes for AAA and the California State University system.

When California dropped the high school driving program, Mr. Corliss saw a pressing need to start a driving school that would provide highly trained and college-educated instructors for the local students. (Although all Driving Schools must use licensed instructors, the requirements are very minimal!)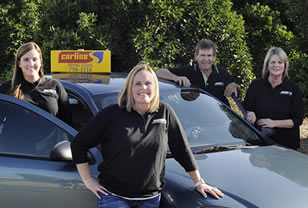 The Corliss Family

Our Driving School is a true family business: with Bill providing the driving expertise, wife Pam working behind-the-scenes as the CFO and and daughters Cristin and Carli are DMV Licensed Instructors.

THE FAMILY BEHIND THE CORLISS DRIVING SCHOOL: (left to right)

Daughter Carli Corliss Hawkins: Assistant Principal, Divisadero Middle School
Daughter Cristin Corliss Ochoa: Principal, Cottonwood Creek Elementary School
Bill Corliss: Retired from VUSD after 32 years of coaching football, teaching English and both Drivers Ed and Drivers Training. Provides the driving expertise behind our school, bringing his years of driving instruction experience to our Drivers Ed, Drivers Training and Traffic School programs. He is also responsible for all instructor training.

Wife Pam Corliss: retired from Mt. Whitney High School after 35 years of teaching Photography and Yearbook.

Pam is the CFO and handles the behind-the-scenes functioning of our school, but says "no way" to actually teaching driving lessons. Older daughter Cristin has not only taught Drivers Ed at Golden West High School but has been teaching Drivers Training lessons for our school since 2002. Younger daughter Carli is the newest member of the Corliss family to carry on the Corliss Driving School tradition.
| | |
| --- | --- |
| | Members of the Corliss Driving School family often join other members of the Traffic Safety community to talk to local high school students about the importance of being safe drivers. In this photo: CHP Public Liaison Officer Scott Harris, Bill Corliss (proudly displaying his Golden West letterman's jacket!); Cristin Corliss Ochoa, Buckman-Mitchell insurance agent Karla Dreier-Gligoor and Pam Corliss after a Golden West High school Driver safety presentation. |